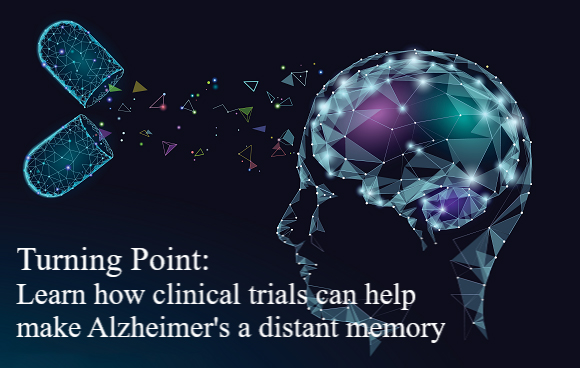 Thursday, March 5
11:30 a.m. to 2 p.m.
NIU's Barsema Alumni and Visitors Center, 231 N. Annie Glidden Rd., DeKalb, IL
In an effort to help health care providers learn and be proactive with early detection and diagnosis of cognitive impairment/Alzheimer's-related dementias, with the ultimate goal of providing patients and their families the opportunity to participate in research studies, NIU is proud to present documentary, "Turning Point."
"Turning Point" follows scientists and patients/families throughout a clinical drug trial in hopes that it will be the first disease modifying therapy for Alzheimer's disease. The film conveys much detail about Alzheimer's, how drugs are developed, the drug pricing chain, the experience of families in clinical trials (and about what a clinical trial is), the passion and humanity of research scientists to find cures for diseases, and the process of scientific exploration, innovation and discovery.
The film screening will be followed by a short panel discussion with area experts.
The event is free and open to NIU Alumni and College of Health and Human Sciences faculty, staff and students; however, you must RSVP by Feb. 26.
Also, box lunches are available for purchase for $11. Please make your selection when you register. (Please note, outside food is not allowed at the Barsema Alumni and Visitors Center.) Continuing Education Units (2.5) will be available. Click here to learn more.
Please contact Dory Stipetic at dstipetic@niu.edu or 815-753-2586 if you have any questions.